STORIE VENEZIANE - Extrait de Parfum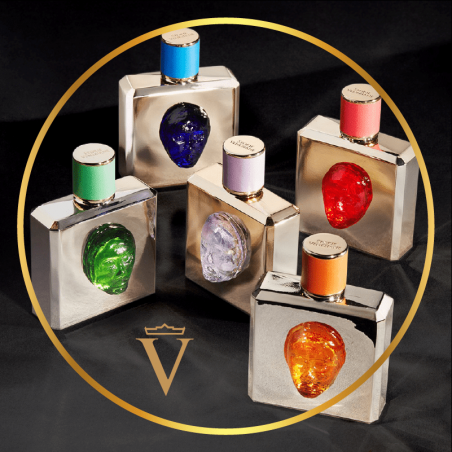 STORIE VENEZIANE
The scented jewels.
Birth in the universe of the cradle of perfumery: Venice.
Revisit the codes of artistic Venice (perfume, glass, mask and leather)
Five perfume extracts inspired by 5 authentic neighborhoods of Venice.
Mask that honors the art of Murano Glass.
Leather of the plugs in homage to the art of Venetian leather.
A creation signed by a passionate couple, Sophie and Didier Guillon.
Names inspired by the pigments used by Murano glassmakers.
Exclusive ingredients.
Haute-couture perfumes
5 extracts reveal the many facets of Venice and praise its traditional skills: the art of perfumery, in pure essences, chiseled like jewels.
Wall glass, made with individually blown masks.
Italian leather, carnal and timeless ... Glued to the precious bottles.
Venice, cradle of the art of perfumery, a city with an aura of grandeur and mystery. This city so desired, serves as the backdrop for Storie Veneziane By Valmont: a series of 5 olfactory tales, which reveal the various facets of a Venice that is sometimes seductive and enigmatic, sometimes legendary and that never stops reinventing itself.
A true tour for beginners, like an ode to the different domains of the lagoon. The art of perfumery in the sky, Murano glass in all its majesty and Italian leather in its most fascinating version: carnal, wild and sensual.
Storie Veneziane, a series designed as a collection of high olfactory jewelry: pure essences carved like jewels, extracts of perfumes that offer a long duration.
Verde Erba I: floral, fresh, delicate, spring feeling.
Alessandrite I: aldehyde, floral, modern, elegant and vibrant.
Rosso I: floral, oriental, strength, splendor and opulence.
Gaggia Medio I: oriental, ambery, carnal, spicy and warm.
Blu Cobalto I: sweet, obsessive, captivating and addictive oriental.