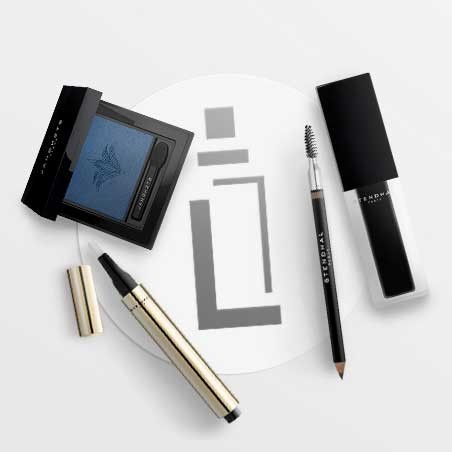 Once the complexion has been made up, it is important to highlight the eyes to give them depth and expression.
4 steps are necessary:
Illuminate with EYESHADOW (eyeshadow)
Highlight with the Anti Fatigue pencil, the EYEPENCIL or the EYELINER
Give intensity with the mascara
Sculpting with the EYEBROW PENCIL (eyebrow pencil)
STEP 1: EYESHADOW
STEP 2: EYEPENCIL
HOW TO APPLY EYEPENCIL?
Apply the pencil along the base of the lashes in a thin or thick line depending on the desired effect
Do not follow the curve of the eye to the last lash to avoid a droopy look
HOW TO APPLY L`EYELINER?
Shake well before use.
Keep the product horizontally with the lid down so that the product lasts longer.
For a natural make-up, apply L´EYELINER along the lash line, with the lids pulled up
For a more sophisticated finish, apply L´EYELINER with small strokes in the outer corner of the eye, with an eyeshadow in a similar shade.
TO ACHIEVE THE STRAIGHTEST POSSIBLE LINE WITH EYELINER
Pull the outer corner of the eyelid gently towards the eyebrow
Then apply L´EYELINER at the base of the eyelashes
STEP 3 HOW TO APPLY THE MASK?
Look down and apply the mascara from the lash roots to the outside
For a glamorous look, lengthen the mascara, concentrating on the lashes in the left corner.
MAKEUPER ADVICE:
Apply the mascara working from the base of the lashes following the tips above.
Move the brush in a "zigzag" motion to emphasize the separation of the lashes.
Apply the mascara from the inner corner of the eye to the outer corner.
Apply to lower lashes in the same "zigzag" motion and continue working from the inside of the eye to the outer corner.
STEP 4: EYEBROW PENCIL
HOW TO APPLY EYEBROW PENCIL?
Using the tip of the brush, brush the brows back from the roots to remove any foundation and / or dust that has accumulated
Then brush the brows in the direction of growth from the root of the brows
With the end of the pencil make small strokes
Brush again in the direction of the growth to connect the strokes for a natural look.