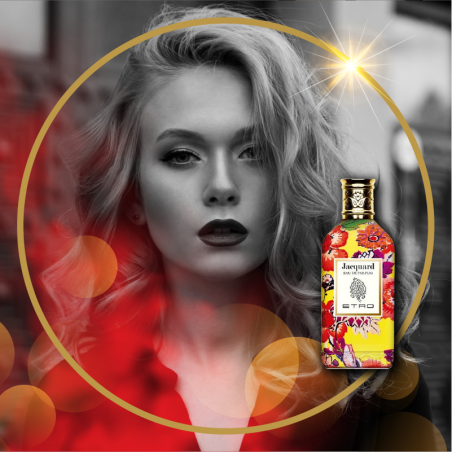 Etro Feminine Line
Each of ETRO's fragrances are made from ingredients by artisan perfumers.
In this wide and electric repertoire, each perfume has its own unmistakable character and personality to express every mood of the day. They are olfactory recipes that come from a unique family, aromas that evoke a renowned history: also in the world of fragrances.
They want to cover with the maxim that "there is only one perfume to which it is always faithful."
A perfume for every occasion is not enough for them either. The idea of ​​transformation becomes a powerful game that includes the relative aspect of choice. Personal gratification through exclusive recipes.
We suggest you how to invent an exclusive perfume that will allow you to use a fragrance that is consistent with the moment we live in.
COCKTAIL OF SENSATIONS
All ETRO perfumes are ideal to complement each other in an original and unique way. You will be surprised by the effect that occurs when you spray your skin with more than one of them. In addition, the natural essences that make up ETRO PERFUMES change in the skin and this allows them to start from a very personal base.
IF YOU WANT TO STIMULATE SENSUALITY Discreetly
: Patchouly + Heliotrope

Intensely: Patchouly + Shaal Nur

Lightly: Etra + Shaal Nur
THE NEED FOR SPIRITUALITY       
To stimulate your physical and mental energy: Palais Jamais + Lemon Sorbet

To introduce you to a mysterious dimension: Palais Jamais + Patchouly

To feel calm: New Tradition + Shantung

To feel calm and strength: Greene Street + Pegaso
IF YOU ARE IN LOVE
AND romantic: Vicolo Fiori + Marketry

And you want to intensify the feeling: Shaal Nur + Heliotrope

And you feel dazed: Etra + Palais Jamais

And you feel in a cloud: Dianthus + Vicolo Fiori

And you feel sexual: Pasley + Musk
IF YOU WANT TO HIGHLIGHT THE MALE SIDE
Slightly: Sandalwood + Shaal Nur

With virile strength: Vetiver + Patchouly

With sensuality: Musk + Patchouly

Full of power: Green Street + Patchouly

Fresh virility: New Tradition + Pegasus
IF YOU WANT TO HIGHLIGHT THE FEMALE SIDE
Flower explosion: Vicolo Fiori + Dianthus

Intense tenacity: Ambra + Musk

Mysterious sensuality: Dianthus + Ambra

Romantic power: Pasley + Vicolo Fiori