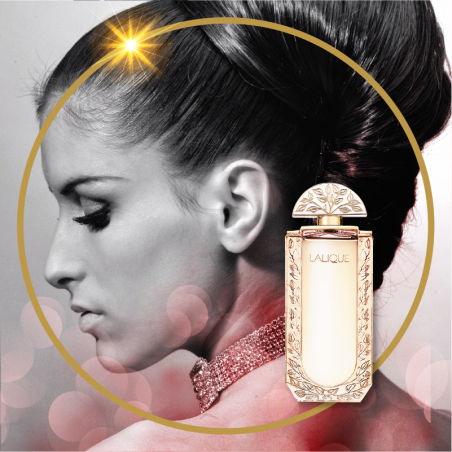 LE PARFUM DE LALIQUE FEMALES
MODERN EASTERN
                       CONCEPT
A perfume worked with precision, using the noblest raw materials. A note of quality, authentic and extremely luxurious. A perfume with wonderful powers.
                          JAR
The glass bottle, a true feat of our master glassmakers, is an extremely heavy glass cube, with a cap surmounted by a square, black and colorless cabochon, bearing the famous motif engraved on the top. An elegant trimmings cord surrounds the neck of the bottle, it is presented in a square box, lacquered in black and red.
FRAGRANCE
Modern oriental ...
It is a great timeless classic.
A dazzling outing.
The fascination of an unforgettable wake remains, hypnotists.