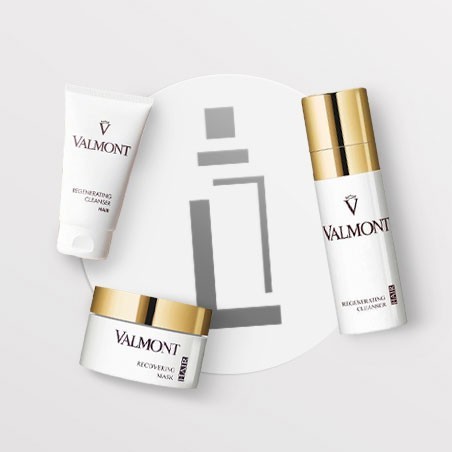 HAIR TREATMENT RITUAL
The skin and scalp have a common embryological origin. For this reason, Valmont Cosmetics, a specialist in anti-aging cosmetics, transfers all its skin experience to the scalp and hair with Hair Repair: its anti-aging hair treatment line.
Triple DNA, liposome RNA, and Anti-glycation Complex work in synergy to strengthen hair from root to tip.
A concept of global beauty… Hair Repair is a line of age-old hair treatments backed by the experience of the brand.
A line of 6 products:
Focused on the scalp and hair before the type of hair.
With double action: anti-aging / anti-hair loss on the scalp for a long-lasting result.
Nourishment / shine on the hair for an immediate result.
A line formulated around the star active ingredients of Valmont Cosmetics (triple DNA, RNA, Glacier Water) combined with an anti-aging complex of specific active ingredients for the scalp and hair: anti-glycation complex and keratin.
As the skin ages, so does the hair, Hair Repair responds to the manifestations of time:
Action on the hair follicle, the living part of the hair for a long-lasting result.
Action on the hair fiber composed of dead cells, for an immediately visible result.
The difference from other products in the same category is that Hair Repair focuses its action on the hair and scalp instead of on the type of hair, adapting to all types of hair.
The customer will be seduced by its unique, fruity, floral, oriental, woody aroma.
THE PRODUCTS OF THE HAIR TREATMENT RITUAL ARE:
Rescuing Oil (restructuring nourishing oil)
Regenerating Cleanser (revitalizing anti-aging shampoo)
Recovering Mask (S.O.S repair mask)
Stimulating Scalp Booster (revitalizing scalp fluid)
Beautifying Mist (biphasic mist, shine and color)
Hair & Scalp Cellular Treatment (intensive anti-hair loss cure).