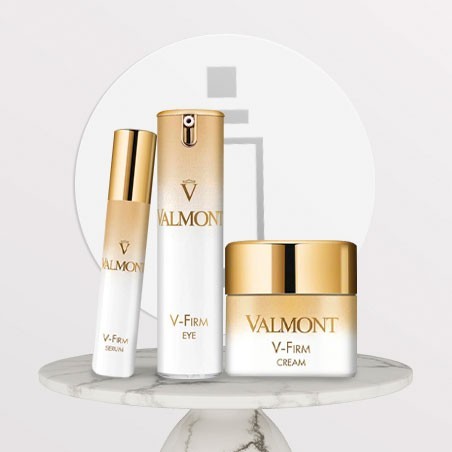 NEW VALMONT LINE
V-FIRM
VALMONT advances in the firming and anti-aging line with a NEW EXPERT SOLUTION FOR SAGGING SKIN.
VALMONT pushes the boundaries of anti-aging with this expert anti-aging skin solution.
The launch of this new high performance treatment line is oriented towards DENSITY and FIRMNESS.
A masterful formulation for a visible and deep effectiveness from 28 days, combined with the sensoriality of the textures that offer long-lasting and deep comfort.
VALMONT's goal with these new products is to enhance your anti-aging experience.
V-FIRM is made up of 3 essential expert treatments:
For a voluptuous expression of DENSITY and FIRMNESS.
Giving your skin a boost
V- FIRM SERUM: firmness-correcting serum
V- FIRM CREAM: facial redensifying cream
V-FIRM EYE: firm eye contour