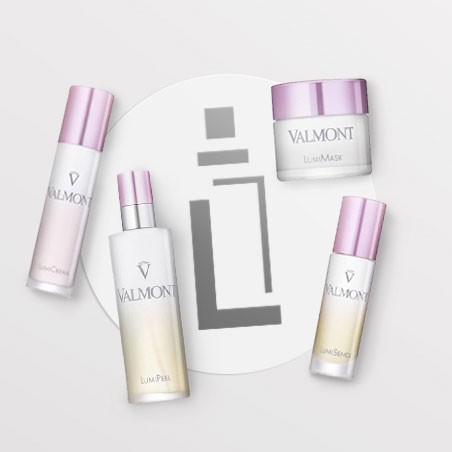 LUMINOSITY 
A line of 4 ultra-powerful light concentrates, which blur the skin for a brilliant new glow and for healthier, more radiant skin.
The results are:
Radiance
Harmony
transparency and
Vitality of the complexion.
Its COMPONENTS come from the power of Swiss alpine nature.
SWISS PHYTO-COMPLEX (it is a cocktail of 7 plants meticulously selected in the Swiss Alps, to provide an infusion of luminosity and incomparable shine, unifying the complexion and correcting skin imperfections).
THE SECRET OF ITS EFFECTIVENESS
The plants of the Swiss alpine phyto complex are cultivated in the purest and most pristine natural environment of the Swiss mountains. These plants harvested at different altitudes offer a high level of active content
In addition to Swiss alpine nature, LUMINOSITY also boasts the efficacy of Japanese nature, combining root extracts from traditional cultivation (roots in soil) and aeroponics (roots in suspension) for an enhanced light result.
This aeroponic cultivation is a new method that enhances the results on smoothing the skin for a perfect reflection of light, generating active molecules that are 2,000% higher.
WHITE MULBERRY (White mulberries are rich in antioxidants, giving the skin incredible clarity)
LUMINOSITY contains formulas that rely on Swiss nature without sacrificing effectiveness. This new line is made up of 4 fine and fresh textures for greater sensoriality, being easy to use every day.