PALAZZO NOBILE - Eau de Toilette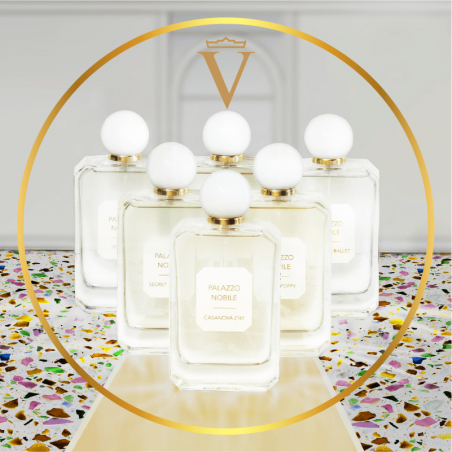 PALAZZO NOBILE
6 eau de toilette, crystalline that capture the heartbeat, emotions and problems that color the journey of life of each one, and whose assembled fragments make up a Venetian terrazzo, between floral and aromatic notes, an artistic spirit , colorful and graphic, which contrasts with transparency and lightness.
For Palazzo Nobile, Sophie Guillon interprets her heartbeat, embarrassment and her emotions… with 6 subtle and nuanced eaux de toilette. She gives them a color, a soul and plays with their intensity. At once singular and delicate, each emotion is assembled and forms a mosaic of life ... symbolized by the Terrazzo motif, with which Didier Guillon wears the Palazzo Nobile collection.
An alchemy of genuine and interior sensations.
6 olfactory emotions.
6 eaux de toilette dedicated to those eager for a discreet hedomism.
Sophie Guillon edits floral compositions, while Didier Guillon pays tribute to the most emblematic character in the city: Casanova.
Within this collection we find an emblematic fragrance: Casanova 2161, which bears the number of the Palace.
This collection is made up of the following eau de toilette:
Casanova 2161: eternal seduction.
Blooming Ballet: a floral symphony.
Bright Poppy: a floral citrus fragrance, a tinkle of laughter.
Satin Musk: a musky floral fragrance, a powdered privacy.
Secret Bamboo: an acid and dusty breeze.
Sea Bliss: marine freshness.