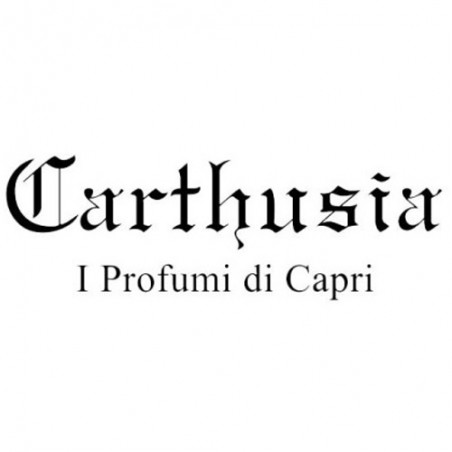 The story goes that in 1948 the Prior of Charterhouse created the ancient formula for perfume and, after obtaining the permission of the Pope, sent it to a chemist in Piedmont in Northern Italy, and together they created the smallest laboratory in the world, called "Carthusia".
Legend has it that in 1380, the Father Prior of the Cartushia de S. James Monastery, surprised by the arrival of King Joan of Anjou in Capri, picked up a bouquet of the most beautiful flowers on the island; After three days, he found that the water where the flowers had been had a fascinating scent. A friar identified the source of the scent as the 'Garofilium Silvestre Caprese' and thus the first Capri perfume was born. The waters were the first perfumes of Capri.
The signature symbol, a wonderful freestyle work, was created in 1948 by painter Mario Laboccetta. It is a portrait of "a flowered mermaid" to recall the surreal and mythological landscapes of Capri. The mermaid seems to be in the middle of a transformation, which blooms with thousands of colors, from which Carthusia perfumes flow, achieving a logo that recalls art and nature in all its forms.
During the reign of Carlos II of Spain and under the bishopric of Anacapri, the most notable things that are remembered today are the brutal incursions of pirates and the intrigues and struggles of the church. Still, with just the resurrection of the monastery, the flower that it was the path of the new era of wealth ...
In 1684, having completed the reconstruction of the Chaterhouse, the Capri monks began to develop the first light-scented essences of local herbs, flowers, and spices.
The old monk of Casthusia, working among the flora of Capri and its teapots, distilling perfumes during those winters of centuries past, did not imagine how those aromas would reach beyond those austere walls of Charterhouse reaching the most influential boutiques in the world ...
Today Carthusia has put its centuries-old knowledge into practice in order to develop a unique perfume culture in the world. Over the years he has refined his mastery of the olfactory senses, perfecting and structuring his insight into essences, with the aim of offering his clients the purest and most exciting emotions. Currently, as was done in the past, all production phases are carried out manually to guarantee the application of natural methods and the care of traditional crafts.
All Carthusia fragrances have an indivisible union with Capri. The inherent sensations and moods of Carthusia products are the result of professional research into components derived exclusively from the Capri environment. These ingredients are found, mixed and interact in Carthusia laboratories, producing a unique harmony of aromas that engender perfumes as exceptional as the island from which they come.