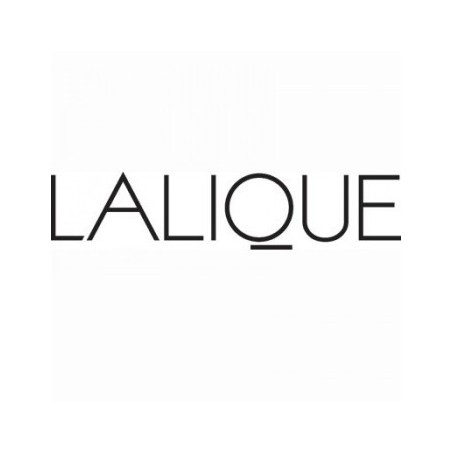 LALIQUE
RENÉ LALIQUE and THE HISTORY OF PERFUME
René Jules Lalique was born in Ay, Marne, Champagne region, France, in 1980. He has always loved drawing. At a very young age, the creator joined a jewellery workshop, while continuing his studies at the school of decorative arts. In a few years, his revolutionary jewellery became iconic for the actresses of the Belle Epoque. He was a glass designer renowned for his impressive creations of perfume bottles, vases, jewellery, candlesticks, clocks and watches in the last part of his life. 
The name René Lalique was also associated with the automobile at this time. To decorate the grille of these astonishing vehicles from the Citroen, Delage, Bentlei, Rolls Royce factories... All audacities were permitted, even using glass. He created 27 models of radiator caps. 
In 1925, André Citroen ordered a radiator cap from the artist for the launch of his famous 5 Cv. 
René Lalique imagined a mascot for the occasion, representing the superimposed silhouettes of 5 mackerels in a frenzy. 
His imagination produced an immense and highly diversified oeuvre: cups, glasses, statuettes, flasks, which remains a formidable source of inspiration for new creations. 
The company he founded is still active today. 
At the age of 16, he was apprenticed to the Parisian jeweller, Louis Aucoq. From 1878 to 1880, he studied at Sydenham Art College in London. He then returned to France and worked for Aucoq, Cartier, Boucheron and others. 
In 1882, he became independent and designed for several famous jewellers in Paris, and 4 years later, he established his own jewellery workshop. 
In 1890, Lalique was recognised as one of the most famous Art Nouveau jewellery designers. He became the most famous in his field, and his name is synonymous with creativity and quality. Despite his success and the recognition he received at the Universal Exhibition of 1900. René Lalique, tired of being plagiarised, gradually abandoned jewellery for glass work. 
In 1907, René Lalique, an exceptional glassmaker, joined forces with the perfumer Fracois Coti to create flasks. The success of their collaboration led to new partnerships with the great perfumers of the 1920s and 30s: Roger & Gallet, Houbigant, Molyneux, D'Orsay, Molinard and Worth.
René Lalique remained faithful to the philosophy of the new art, which wanted to reconcile art and industry. 
In 1920 he also became famous for his work in the Art Deco style. Among other works, he was responsible for the light glass walls and elegant glass columns, the great hall and dining room of the ship "SS Normandie", the dining car of the train "Côte D'Azur" and on the "Orien Express" in 1929.
Lalique's holiday periods in Ay and the time he spent in London strongly influenced his work. As a result, his many pieces of jewellery and vases. 
He began to conceive perfume bottles in glass, thus being the first to imagine the marketing of such an emblematic product of luxury and refinement in an equally delicate and splendid packaging. 
LALIQUE: YESTERDAY, TODAY AND FOREVER
THE PERFUME
In the last century, perfume packaging as it is conceived today did not yet exist. Apart from a possible label, nothing on the outside of the bottle mentioned the scent it contained. On the other hand, fragrances were sold separately in single bottles and refined ladies had to buy precious, often unique and expensive bottles. 
Over the years, Lalique's research and work in the field of glass would have led to the discovery of a technique that made it possible to produce works of great artistic quality using mechanical methods. This reduced the cost of luxury glassmaking and made it more affordable. 
WOMEN AND FLORA: THEMES DEAR TO RENE LALIQUE'S HEART
Drawing his inspiration from the nature that surrounded him, René Lalique was also a lover of women, who never ceased to inspire his work. He dedicates ornaments, jewellery and perfume bottles to them... 
A constant homage that is recognisable even in his naturalistic expression: the floral compositions undulate, the vines languish, the dragonflies seem to move with a totally feminine elegance. The flora and its realistic variations of lily-of-the-valley, rose, orchid, ear of wheat, lily? 
It is therefore only natural that LALIQUE PARFUMS has dedicated a line for women. 
LALIQUE AND ANIMAL ELEGANCE (1989)
René Lalique was passionate about nature, an observer of fauna and flora. Fauna became the best inspiration for both Marc and Marie-Claude Lalique.
Each creator had an independent mind and his own way of interpreting animals. While René's representations were very detailed, Marc's were more modern and stylised, such as the two poissons motifs. It is through these animals that Marie-Claude Lalique became familiar with the family business: the craftsmen of the Lalique factory created the menagerie of fragile glass animals for her when she was a child, and one of her most famous creations was the zeila panther (1989). 
Today, animals and their elegant silhouettes adorn Lalique's new creations...