V- Shape Filling / V-Lifting Valmont - Anti-wrinkle and Firmness.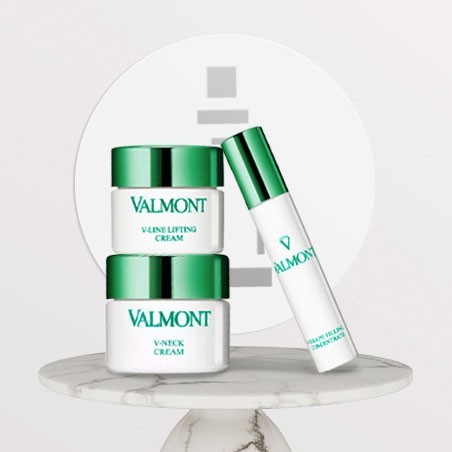 LINES AND VOLUMES RITUAL
With the passage of time, the face with its mountains and valleys tend to become emaciated and its contours lose tonicity. However, although wrinkles and loss of firmness are inevitable, their appearance and importance can be visibly reduced.
To delay or prevent the most visible signs of aging, Valmont Cosmetics displays all its knowledge with the "AWF5 complex" treatment, conclusively anti-wrinkle, firming and volumizing the face.
To offer Valmont customers proven efficacy, Valmont has developed an innovative method to combat the distribution of wrinkles on the skin surface and its depth with the AWF5 complex.
Letting time glide over the skin without leaving the slightest trace is the absolute beauty dream of everyone who uses Valmont creams.
Valmont Cosmetics dedicates the AWF5 complex to them, a new line to precisely meet the evolving needs of the skin throughout life.
Over time, gradually, the vital functions of the body weaken and energy is depleted ... The skin, like all the body's organs, also progressively reveals itself and the signs of aging appear more and more deeply.
If for Valmont cream users a wrinkle is always the expression of the time that elapses, for Valmont Cosmetics there is a specific cosmetic answer (the AWF5 Complex).
This complex contains a new generation of active ingredients selected for their specific action on the skin area involved in the formation of wrinkles and the loss of firmness at each stage of skin aging.
This complex includes 2 collections: liftante and volume.
Lifting collection: smoothing and firming.
Volume collection: anti-sagging and volumizing.
The AWF5 Complex brings together 5 top-notch ingredients for the ultimate potency.
1. VITAMIN C (antioxidant): protects the skin's structure.
2. PEPTID COCKTAIL (wrinkle repair): promotes the renewal of the extracellular matrix and cell proliferation.
3. DENSI-DERM (matrix regenerator): allows a good cohesion of the fibers and the fundamental substance.
4. The FIBRO-BOOST (elasticity and firmness trainer): increases the production of collagen I, collagen III and elastin.
5. G.A.GS-BOOST (repulped matrix): increases the production of GAGs by providing elements necessary for their synthesis.
The AWF5 complex is integrated into all AWF5 formulas.
THE PRODUCTS OF THE LINES AND VOLUMES RITUAL ARE:
V-Line Lifting Concentrate (lines and wrinkles serum for the face)
V-Line Litfing Cream (face smoothing cream)
V-Line Lifting Eye Cream (smoothing eye cream)
V-Shape Filling Concentrate (volumizing face serum)
V-Shape Filling Cream